QWERTY never made sense to me. All the keys looked disorganized. I didn't know how to type and even then, things did work out well. But I never adopted the hunt and peck style, I knew where the keys were, just that I had to always ensure it. So I kept looking at the keys before I typed in anything.
The fact that this is so counter-productive hit me when I had to type in a very long document and I got frustrated at the time I was spending on it.
I made a quick decision to learn to type at any cost. A bit of searching around brought me to this cool free website  http://www.typing.com/
I signed up and after a few trials, I knew for sure that I had chosen right. Typing.com had a very elaborate practice dashboard of sorts. It was divided based on the difficulty rating. Once you practice the easy keys (or the easily reachable keys) you move on to the harder to reach keys, followed by casing, punctuation, numerals and symbols.
It took me around 2 weeks of constant practice to slowly master typing. I had to force myself to use it everywhere and every time and not just when I was practising on the dashboard. I used to practice it only in the evenings for an hour or so, but slowly I perfected it.
I did test my speed before starting everything and it was 37 WPM (using the look and type method). After a few days of typing, it went all the way from 16 WPM to 25WPM. More practice and a week later, I had reached around 39 WPM, past my earlier record and just short of the worldwide average (40WPM).
After I was done doing the intermediate and some of the advanced lessons on typing.com I stopped practising when it got to the numeral keys. It was very hard to reach those keys on the top with the right finger.
I adopted touch typing fully and in a few months (without any active practice/tests) I touch 50 WPM. (which is my present record 😛)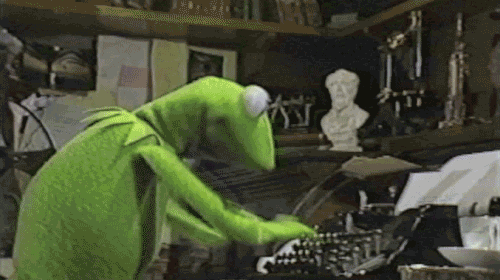 QWERTY makes more sense now. Not all of it. But at least most of it. I don't use the recommended fingers for typing. I type the character C with my left index finger and not with my middle finger as recommended (and it just works perfectly for me!).
The final practice section on typing.com introduces a new keyboard layout called the DVORAK system.

The DVORAK layout looks more intuitive. The most used keys are at the right places (or easily reachable places ). Keys like Q are less frequently used and are placed appropriately. (Bonus Read: ✨ The Zipf Mystery  👈 Some crazy stuff ahead.)
Now to answer the big question! Should one move on to this layout?
I think it's too early to answer this question. Even though this layout was designed in 1936, it never overtook QWERTY. Might be the first mover advantage.
So for now, I'm going to stick with QWERTY.